The people who work at Cosentino are core to the development and innovation of the company. They all add value and contribute to the fact that Cosentino is a market leader. The company has over 2,700 employees, of which 1,100 work at the various centres the company has in Spain.
Cosentino's employees come from 44 different countries, reflecting the company's international character..
This diversity helps create different points of view that enrich the decisions taken with regard to the running of the company.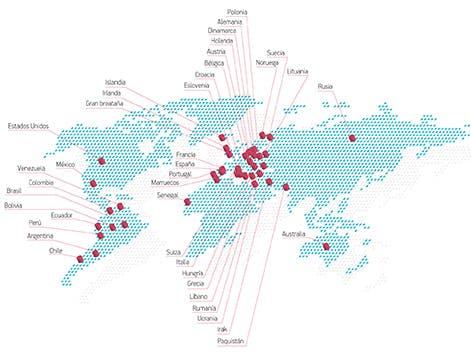 Vaner
Kost
Tobak
Ergonomi
årvågenhed
Lægevagt
Forebyggende service
Overvågning
Improving the work environment and working conditions of employees is a priority for Cosentino. The company is firmly committed to reducing hazards. High safety standards are in place both at its facilities and during the production processes. Training in this area is therefore vital to create a culture of safety.
Welcome Plan
---
Aimed at those who begin to work for the company, it plays an important role in the training of professionals.
Training Courses to Shape Professionals
---
Training Courses on 'Electromechanical Installation and Maintenance of Machinery and Production Lines' are offered at Cosentino's Training Workshop, with the aim of creating professionals who are in touch with the way production works today.
Continuous Training for Employees
---
The goal of our employee training policy is to improve personal development, operational efficiency, performance support, to offer training tools, increase employability, imbue pride in belonging, and ensure the satisfaction of our employees.
Transparency, non-discrimination, and equal opportunities are uppermost in Cosentino's selection and hiring policies.
In 2012 the Equality Unit of Cosentino, S.A., was set up. This body involves every member of the company and enables all employment sectors to be represented.
Cosentino also has an Equality Plan on whose new framework of social responsibility and sustainability the company bases itself.
Some of the specific goals we aim to achieve with this Equality Plan are:
Maximising the access, development and promotion of women to positions of responsibility where today there are still few women.
Encouraging the incorporation of women to those profiles, groups or positions where they are still underrepresented.
Training and sensitising Cosentino employees on equality.
Incorporating the value of equality in a direct and proactive way with regard to employee management processes.
Increasing, in the field of Corporate Social Responsibility, the importance of family life among Cosentino employees and within society.
Finding the right work/family balance for employees.
Establishing the necessary mechanisms and procedures to avoid or resolve any situation of sexual harassment or discrimination.