In 1940, Eduarda and Eduardo Cosentino, parents of the current owners of Cosentino Group, started quarrying and carrying out basic marble processing in Macael (Almería).
The experience the Cosentino family had in the marble sector led to the second generation – working in the same field – to the create Mármoles Cosentino, S.A. in 1979. The company, an initiative of Francisco Martínez-Cosentino Justo and his brother Eduardo Martínez-Cosentino, was set up with 17 workers. Some years later the third brother, José Martinez-Cosentino, joined the company. They had one small warehouse in Barcelona, run by Eduardo, which stocked marble.
During the '80s, Mármoles Cosentino S.A. expanded its business to other parts of Spain and Europe. But the Martinez-Cosentino brothers realised that their activity could not limit itself to just extracting and processing 'White Macael' marble, and so they decided to adopt a strategy of diversification and international expansion by investing in research and innovation.
Following this line of research and development, Cosentino embarked on an ambitious project that culminated in the construction of a revolutionary factory where Silestone® was first manufactured in 1990. Five years later, this product was a huge success in the kitchen worktop sector.
Thanks to their commitment to research and development, other leading materials were later created in their respective sectors, such as ECO by Cosentino®, Cosentino's recycled surface; SENSA®, the company's line of granite with unique anti-stain protection; and more recently, and Dekton®, an innovative, ultra-compact surface that aims to revolutionise the world of architecture and design worldwide.
Its strong commitment to create innovative materials and offer high-value solutions to the world of architecture and design has always been accompanied by a determination to increase the company's international presence.
1940-1979
The first members of the Martínez-Cosentino family work at the Macael marble quarry, manufacturing simple products from this natural stone.
1979
The Martínez-Cosentino Justo brothers (the second generation of the family) set up Mármoles Cosentino S.A.
1985
Cosentino opens its first retail outlets in France and Germany.
1990
Cosentino develops Silestone.
1997
The Group's first branch is set up: C&C North America.
1999
Cosentino Northwest Europe (Holland) is set up.
2000
Cosentino Latina (Brazil) is set up.
2002
Cosentino UK (London) is set up.
2003
Cosentino Süddeutschland (Southern Germany) is created.
2005
The new antibacterial Silestone is launched. US Stone is acquired.
2006
Cosentino Göteborg, Cosentino Porto (Portugal) and Cosentino Italy are created. Svenks Stemlijo (Malmö-Sweden) is acquired.
2007
New logistics facilities and factories are set up in Europe and the USA. Cosentino sets up in Mexico.
2008
Cosentino Swiss, Cosentino Belgium and Cosentino Scandinavia are created. Centres open in Manchester, Venice, Berlin, Düsseldorf and Göteborg.
2009
100% of the US subsidiary is acquired.
2010
Work starts on expanding Cosentino's industrial park for future factory plans.
2011
Cosentino Australia: First Centre in Sydney.
2012
International Expansion: USA, Brazil, Norway and the UK.
2013
Dekton is launched. Cosentino now operates in over 70 countries.
2014
Cosentino City in Singapore is created.
1980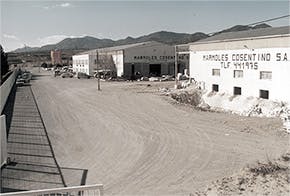 2005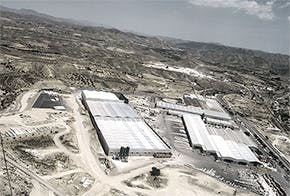 2010
2014